Edelweiss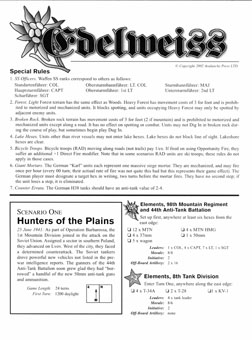 | | |
| --- | --- |
| Designer | Bennighof |
| Game Type | Expansion |
| Format | Spiral bound |
| Release Date | 2003-07 |
| Availability | Out of Print |
| Scenarios | 24 |
| Counters | 74 |
| Counter Type | Die-cut |
| Maps | 0 |
Immortalize yourself as the first member to complete this game!
Overall Rating, 35 votes
Expansion Rank: 36 of 74
Popularity: Ownership & Activity
Status
Owned by 15%
Played by 5%
AAR'd by 4%
Medaled by 0%
Rank
53rd of 99
53rd of 93
67th of 89
TBD

| | Total |
| --- | --- |
| Side 1 | 17 |
| Draw | 6 |
| Side 2 | 12 |
This began as the second supplement-with-counters we produced, part of our "Our Own Private Tapio" program. The original version had 20 scenarios and was printed just like the scenario books that we placed inside our boxed games. That made for a terrifically unattractive product on store shelves, but somehow it managed to sell anyway.

The subject, German mountain troops, allowed for scenarios taking place all over Europe. The counters were leftovers from Chickamauga and Chattanooga, and that meant it could have four double-sized pieces. Those became a pair of river gunboats, and two versions of the giant motorized mortar, Karl.
---
Display Scenario List (24)
---
---
Display Relevant AFV Rules
---
AFV Rules Pertaining to this Game's Order of Battle
Vulnerable to results on the Assault Combat Chart (7.25, 7.63, ACC), and may be attacked by Anti-Tank fire (11.2, DFT). Anti-Tank fire only affects the individual unit fired upon (7.62, 11.0).
AFV's are activated by tank leaders (3.2, 3.3, 5.42, 6.8). They may also be activated as part of an initial activating stack, but if activated in this way would need a tank leader in order to carry out combat movement.
AFV's do not block Direct Fire (10.1).
Full-strength AFV's with "armor efficiency" may make two anti-tank (AT) fire attacks per turn (either in their action segment or during opportunity fire) if they have AT fire values of 0 or more (11.2).
Each unit with an AT fire value of 2 or more may fire at targets at a distance of between 100% and 150% of its printed AT range. It does so at half its AT fire value. (11.3)
Efficient and non-efficient AFV's may conduct two opportunity fires per turn if using direct fire (7.44, 7.64). Units with both Direct and AT Fire values may use either type of fire in the same turn as their opportunity fire, but not both (7.22, 13.0). Units which can take opportunity fire twice per turn do not have to target the same unit both times (13.0).
Demoralized AFV's are not required to flee from units that do not have AT fire values (14.3).
Place a Wreck marker when an AFV is eliminated in a bridge or town hex (16.3).
AFV's do not benefit from Entrenchments (16.42).
AFV's may Dig In (16.2).
Open-top AFV's: Immune to M, M1 and M2 results on Direct and Bombardment Fire Tables, but DO take step losses from X and #X results (7.25, 7.41, 7.61, BT, DFT). If a "2X" or "3X" result is rolled, at least one of the step losses must be taken by an open-top AFV if present.
Closed-top AFV's: Immune to M, M1 and M2 results on Direct and Bombardment Fire Tables. Do not take step losses from Direct or Bombardment Fire. If X or #X result on Fire Table, make M morale check instead (7.25, 7.41, 7.61, BT, DFT).
Closed-top AFV's: Provide the +1 modifier on the Assault Table when combined with infantry. (Modifier only applies to Germans in all scenarios; Soviet Guards in scenarios taking place after 1942; Polish, US and Commonwealth in scenarios taking place after 1943.) (ACC)
Tank: all are closed-top and provide the +1 Assault bonus, when applicable
Assault Gun: if closed-top, provide the +1 Assault bonus, when applicable
APC – Armored Personnel Carrier: These are Combat Units, but stack like Transports. They can transport personnel units or towed units. They are not counted as combat units for the +1 stacking modifier on the Direct Fire and Bombardment Tables (4.4). They may be activated by regular leaders and tank leaders (1.2, 3.34, 4.3, 5.43). They do not provide the +1 Assault bonus (ACC).
16 Errata Items
Scen 3

Scenario has a double Soviet HMG entry in the OOB. APL usually instructs us to ignore the second entry, and the Edelweiss Expanded version omits the second entry. I believe we should ignore it here as well.

Scen 17

The title is misspelled in the scenario book. It should be "Gandin's Attack"

Scen 17

The 910th Fortress Battalion sets up first, and should have the German Heer symbol. The 17th Infantry Regiment should have the Italian Army symbol.

Scen 22

In the German order of battle, "1 x 75/40 AT" should be "1 x 75/41 AT"

The Anti-Tank Fire value is 2-4. It was misprinted in Edelweiss.

The reduced direct fire value of the Heer HMG became 5-5 starting with Fall of France.

The morale and combat modifiers of German Sergeant #1614 should be "0", not "8".

This unit is interchangeable with the StuH 42. Technically there never was a StuG IIIh. The StuH 42 was a StuG III with the main armament replaced with a modified 105mm howitzer. The StuG IIIh and StuH 42 counters have the same values, so there is no affect on play.

The movement allowance on the counters in Airborne is misprinted. It should be "3."

All SS 75mm IG guns are direct fire weapons (black), not indirect (white).

This leader should have a morale of "9" and a modifier of "0" instead of the other way around.

The reduced direct fire value in Kursk: Burning Tigers is 4-4.

Kommissars never get morale or combat modifiers. Ignore misprints.

Propeller-driven APC on skis (aerosan). Treated as Foot units for movement purposes.

Kommissars never get morale or combat modifiers. Ignore misprints.

All Guards T-34/85 tanks should have AT fire values of 7-7.