Division Marocaine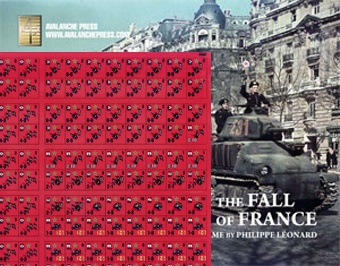 | | |
| --- | --- |
| Designer | Bennighof |
| Game Type | Expansion |
| Format | Spiral bound |
| Release Date | 2014-07 |
| Availability | In Print |
| Scenarios | 6 |
| Counters | 176 |
| Counter Type | Laser-cut |
| Maps | 0 |
Tour Veterans

Overall Rating, 7 votes
Expansion Rank: 14 of 74
Popularity: Ownership & Activity
Status
Owned by 4%
Played by 1%
AAR'd by 1%
Medaled by 1%
Rank
97th of 99
84th of 93
87th of 90
43rd of 48

| | Total |
| --- | --- |
| Side 1 | 3 |
| Draw | 1 |
| Side 2 | 3 |
| | |
| --- | --- |
| | For our 1940: The Fall of France game, Gold Club members had the chance to pick up the special Division Marocain set: 176 beautiful scorchless, sootless pieces portraying the French 1st Moroccan Infantry Division in May and June of 1940. Formed in October 1939 from three regiments of long-service professionals, the 1st Moroccan Infantry Division immediately became one of the French Army's elite units. Special pieces just make playing a game more special. |
---
Display Scenario List (6)
---
---
Display Relevant AFV Rules
---
AFV Rules Pertaining to this Game's Order of Battle
Vulnerable to results on the Assault Combat Chart (7.25, 7.63, ACC), and may be attacked by Anti-Tank fire (11.2, DFT). Anti-Tank fire only affects the individual unit fired upon (7.62, 11.0).
AFV's are activated by tank leaders (3.2, 3.3, 5.42, 6.8). They may also be activated as part of an initial activating stack, but if activated in this way would need a tank leader in order to carry out combat movement.
AFV's do not block Direct Fire (10.1).
Full-strength AFV's with "armor efficiency" may make two anti-tank (AT) fire attacks per turn (either in their action segment or during opportunity fire) if they have AT fire values of 0 or more (11.2).
Each unit with an AT fire value of 2 or more may fire at targets at a distance of between 100% and 150% of its printed AT range. It does so at half its AT fire value. (11.3)
Efficient and non-efficient AFV's may conduct two opportunity fires per turn if using direct fire (7.44, 7.64). Units with both Direct and AT Fire values may use either type of fire in the same turn as their opportunity fire, but not both (7.22, 13.0). Units which can take opportunity fire twice per turn do not have to target the same unit both times (13.0).
Demoralized AFV's are not required to flee from units that do not have AT fire values (14.3).
Place a Wreck marker when an AFV is eliminated in a bridge or town hex (16.3).
AFV's do not benefit from Entrenchments (16.42).
AFV's may Dig In (16.2).
Open-top AFV's: Immune to M, M1 and M2 results on Direct and Bombardment Fire Tables, but DO take step losses from X and #X results (7.25, 7.41, 7.61, BT, DFT). If a "2X" or "3X" result is rolled, at least one of the step losses must be taken by an open-top AFV if present.
Closed-top AFV's: Immune to M, M1 and M2 results on Direct and Bombardment Fire Tables. Do not take step losses from Direct or Bombardment Fire. If X or #X result on Fire Table, make M morale check instead (7.25, 7.41, 7.61, BT, DFT).
Closed-top AFV's: Provide the +1 modifier on the Assault Table when combined with infantry. (Modifier only applies to Germans in all scenarios; Soviet Guards in scenarios taking place after 1942; Polish, US and Commonwealth in scenarios taking place after 1943.) (ACC)
Tank: all are closed-top and provide the +1 Assault bonus, when applicable
Armored Cars: These are Combat Units. They are motorized instead of mechanized. All have their own armored car leaders, who can only activate armored cars (6.85). Do not provide the +1 Assault bonus (ACC).
Reconnaissance Vehicle: 8.23 Special Spotting Powers Both foot and vehicle mounted recce units (1.2) possess two special spotting abilities. The first ability is that they can spot enemy in limiting terrain at one hex further than the TEC specifies for other units and leaders. For example, an enemy unit in town can normally be spotted at three hexes or less, but a recce unit can spot them at four hexes.Their second ability is that they can place a Spotted marker on any one enemy unit they can spot per turn, just as if the enemy unit had "blown its cover" by firing. Such Spotted markers are removed as described earlier.
Prime Movers: Transports which only transport towed units and/or leaders (May not carry personnel units). May or may not be armored (armored models are open-top). All are mechanized. (SB)
5 Errata Items

In 1940: Fall of France, the units show Direct Fire. All units are Indirect Fire.

The reduced direct fire value of the Heer HMG became 5-5 starting with Fall of France.

The morale and combat modifiers of German Sergeant #1614 should be "0", not "8".

The movement allowance on the counters in Airborne is misprinted. It should be "3."

The unit label on the counter is 25mm, but should be 20mm. No effect on play.