(participation voluntary!)
Browsing the forums I've come across a fair number of rarely observed or completely new member names. Often I flip back to PG-HQ to check the profiles only to discover that not only are these guys who joined up pretty early, they typically have empty profile descriptions...
There are lurkers among us!!!

Then we have the lads who can play literally hundreds of scenarios without filing a single AAR, yet take great delight in actively participating here in the forums.

We've also got a fair bunch of interesting avatars...
So, how about an official meet-and-greet thread to give folks a chance to introduce themselves and not have that introduction be buried deep inside the forum? Participation is strictly voluntary!
########################################
I'm Shad. I was born and raised in Florida, USA. For many generations my family have been devout Piscatorians, hence the ichthyologic avatar and cognomen.
I started PG-HQ back in early 2010, and haven't played much PG since

but I hope to get more table time starting next year.
I've lived overseas for 7 years now. I did a master's degree in Japan and for the last 5 years have lived in NE China. I'm married to a lovely former classmate from my time in Japan, and we have a 14 month old son.
In my short career I've done all sorts of stuff, but from August I'll be a Director of International Marketing. I've succeeded in making a decent living serving as a bridge between cultures, though that was certainly never my plan during school!
I prefer board wargames, but due to time and space constraints most of my gaming these days is short bursts of Team Fortress 2 on PC.
I don't have a regular face-to-face wargame opponent, but I have had the pleasure of losing to both Vince Hughes and Alan Sawyer over Skype.

My sincere welcome to everyone, and feel free to contact me directly at any time if you're having trouble with PG-HQ!
2016-01-01 Update: new photo showing infant has become child and that Shad's hairline has failed repeated morale checks!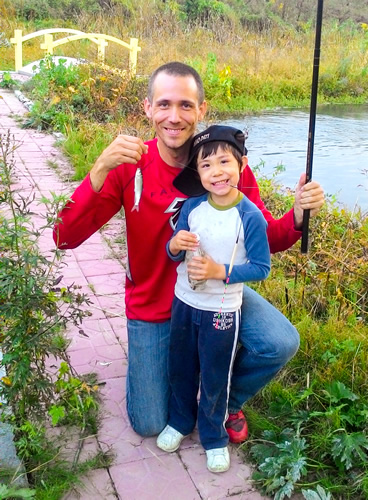 ...came for the cardboard, stayed for the camaraderie...